Valentini's Custom Wine Cellars
Nationally Recognized Wine Cellar Specialists
| | |
| --- | --- |
| Posted on November 30, 2015 at 12:40 AM | |
Points to Consider When Buying a Custom Wine Cellar
(Design below by Kathleen Valentini)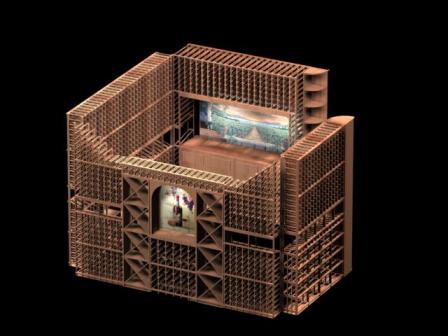 Building a custom wine cellar used to be the privilege of the rich, but that is no longer the case. Unique, tailor-made wine cellars are more accessible than ever and are a fa...
Read Full Post »
| | |
| --- | --- |
| Posted on October 31, 2015 at 9:35 PM | |
I had the pleasure of working on a couple of William Lyon Developments in Orange County designing, building and installing their wine cellars in the new models. Congratulations to all involved in making this beautiful development such a success. The models are now open to the public and I encourage you to go see them!

                                    

...
Read Full Post »
| | |
| --- | --- |
| Posted on September 28, 2014 at 9:30 PM | |
On storing wine: Keep the temperature constant. For proper aging of wine, refrigeration is a MUST in most parts of the world; even a below-ground cellar is not cool enough!
Please do not store your wine in a "wine jail", on your counter or in any room that reaches over 70°F as the wine begins to oxidize. An ideal temperature for storing a ALL wine collection is 55°F (12.2°C). Letting the temperature drop below 55°F won't hurt the wine; it'll only slow down the aging ...
Read Full Post »
/